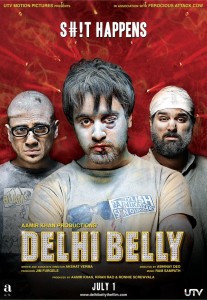 First of all, I am not a movie reviewer nor do I think I can analyze movies so well. But after watching movie Delhi Belly , I simply could not resist myself from writing this post and share where exactly the Indian cinema has reached 🙂
This movie came into everyone's notice after it's song Bhaag Bhaag Bose DK bhaag. Many of people around me could not get what exactly this song meant. Bose Dk – DK bose actually becomes a famous Hindi abuse if said repeatedly. Yes, it's true and this song is there on every Radio station, Music channel etc.
This different experiment of Amir Khan Productions is liked by almost everyone of the age 18-40 in India. Nevertheless, it is disliked by many people as well, because of the abusive language used in the movie. And hence this movies is rated Adult.
There were times when some movies being made in bollywood had some explicit dialogues or double meaning terms. But gradually that could not entertain people and the producers have become real open with the audience. People tend to enjoy these kind of movies more than a slow love story now. Yet some families do not feel comfortable watching this movie but it's "ok" to watch these kind of movies for majority.
I personally enjoyed the movie thoroughly and every single "explicit word" in that movie, probably the reason is I went to watch movie all alone 🙂 My questions are –
What If I was with my wife, family ?
is it possible to laugh "your ass off" on those dialogues when your dad is sitting next to you ?
I know many of you will say "Yes dude, sure what's the problem ?" But I come from a society or part of world where I still feel uncomfortable to watch this kind of movie with my family.
But amongst all the above thoughts, one thing which is true about the move is – It's a nice watch. Guys are going to love the movie since it shows how life fucks you for no reason and how you can fuck back your life and have fun 😉 and there I said it. Because talking about this movie and not using abusive language would be unfair.
In the end, you should watch this movie if –
You want to just laugh like anything.
You got sense of humor.
You got patience to listen all those stuff
last but not least, all you want is 2 hours of non-stop fun.
Yes this movie has not intermission and no songs to spoil the fun. So you have 2 hours of plain enjoyment and you can laugh your ass off.
You may definitely feel that this blog entry is kind of ambiguous. Since I started with how the Indian Cinema has took a tide in few years and then started to curse this movie and in the end I said it's an awesome movie. Infact, this is how audience are here in India. They are really concerned about culture, community, holiness etc. etc. but they still want to have fun. So a movie like this gets into lot of controversy gains attraction and becomes a success in the end.
Hope you will watch this movie sooner. If you plan to watch at home, make sure you have the headphones on. Enjoy the song DK bose.
Be Good.
Sachin Khosla