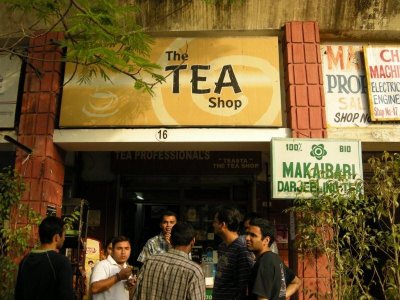 When i came to NOIDA, I was alone, and din know anyone around. It used to be a great day at office and then the evenings were chilly and boring as anything. One day i was driving around and found a shop which was covered young crowd. I could see lots of chicks around and they were like so good. The place beared a hoarding "Tea Shop" . At once i did not enter that because from the first look that looked a place where people can hangout and smoke as well. But i am the one non-smoker guy in town 😛
Well after few days i heard someone saying that the place serves really nice tea and some other beverages as well. Somehow i went there and bought a caribbean tea for myself, oooo … it was amazing. And after that let me tell you that place is an awesome place to be. If you want to get in touch with the young crowd of the city and are a person who needs company should go there once and make some friends 🙂
Well not to forget about the tea which is served there. It some sorta special Makaibari tea and you can even buy some of the weed (tea) for yourself. They sale it from 40 INR to 150 INR per 250gms.
WHERE
Tea Shop, Sector 37, Noida
Landmark — You will see lotsa car parking there and crowd around the shop 😀
Cheers !!
Realin !