Its social networking everywhere. The more  you connect across people the better you are to go further in whatsoever you are doing. Its all abou the social networking. With the massive success of facebook,orkut,myspace and not to forget the social microblogging website twitter social networking among people is increasing day by day. After the yahoo's mybloglog service has introduced another click & go social networking feature for your blog/website. Its called Google Friend Connect.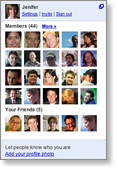 It lets you setup your site with few clicks and by uploading mere 2 files you are good to go.Paste a snippet on your website where you want to display the members connected to your network. Trust me rest all is done by google's code. You just have to sit back and enjoy that you are being connected socially to many other people.Have a look at the widget.
Follow the link for google friend connected given above and have this widget on your website 🙂
Cheers !!
Realin !